Welcome to our Animal Hospital
Ellensburg Animal Hospital is trusted by generations to provide compassionate, quality care for their pets, horses and livestock. We are the longest-serving (since 1951), most experienced (75 years of collective experience) and best equipped veterinary hospital in Kittitas County.
Climate-controlled intensive care unit
Ultrasound
DR Digital Radiography (NO developing time)
Full small animal and equine dental equipment
On-site basic surgery with some advanced capabilities in
Orthopedic and Soft-Tissue Surgery
Canine Cesarian Section ON-SITE
ADDRESS: 1800 Vantage Highway
We are on the corner of Vantage Highway and Pfenning Rd. kitty-cornered across from Knudson's Lumber.
EMERGENCIES: The phone number above will reach an after-hours message system. If you choose option 1 you will be connected with the on-call doctor's cell phone to speak directly or leave voicemail. If you choose option 2 you may leave a message but it will not be picked up until the next business day. Payment in full is expected at time of services. We share after hours responsibilities with the veterinarians of Valley Veterinary Hospital and patients may be seen at either hospital.
DIRECTIONS FROM FREEWAY: From I 90 westbound take exit 109 turn right on Canyon Road towards town and drive 1.8 miles to stop light (7-Eleven on corner) and turn right on University Way. Drive 1.6 miles to above address.
From eastbound I 90 take exit 106 and continue on University Way towards town and drive 3.9 miles to above address. (There will be no turns and you will drive all the way through town past the University.)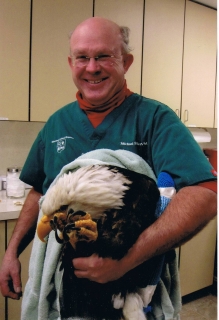 WILDLIFE INFORMATION: We will handle wildlife from Kittitas County or from licensed wildlife rehabilitators. Wildlife coming from other counties should contact their regional wildlife office. We do not raise baby song birds or mammals.
WDFW Yakima (509) 575-2740
WDFW Ephrata (509)754-4624
Licensed wildlife rehabilitators include Blue Mountain Wildlife (541) 278-0215 or (509) 366-0888 in Benton City.