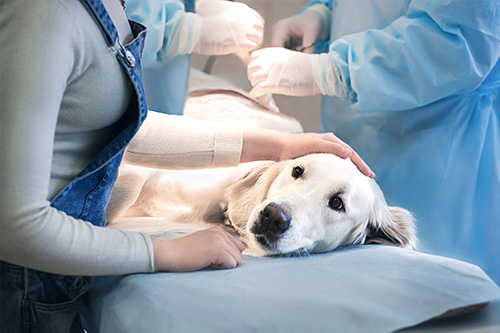 We are equipped for a wide range of surgical procedures that include, but are not limited to, routine spays & neuters, soft tissue and orthopedic surgeries, biopsies and mass and tumor removal. During surgery our patients are closely monitored throughout the procedure to check blood pressure, level of blood oxygen, heart rate and rhythm, and temperature.
Prior to any surgical procedure the doctor will perform a thorough physical examination and may require pre-anesthetic blood work in order to evaluate kidney and liver functions, complete blood counts and blood glucose levels. All of this is to ensure the best outcome for your pet.
When your pet is scheduled for surgery you will need to withhold food from 8 pm the night before. The morning of surgery, please allow 15 minutes for our veterinary technician to check in your pet, do an initial examination and to answer any questions you may have about the procedure and after care. Upon discharge we will send home after care instuctions and we welcome any calls if you have other questions once your pet is back home.